Neotech Artist Ambassador Profile: Emily Pecoraro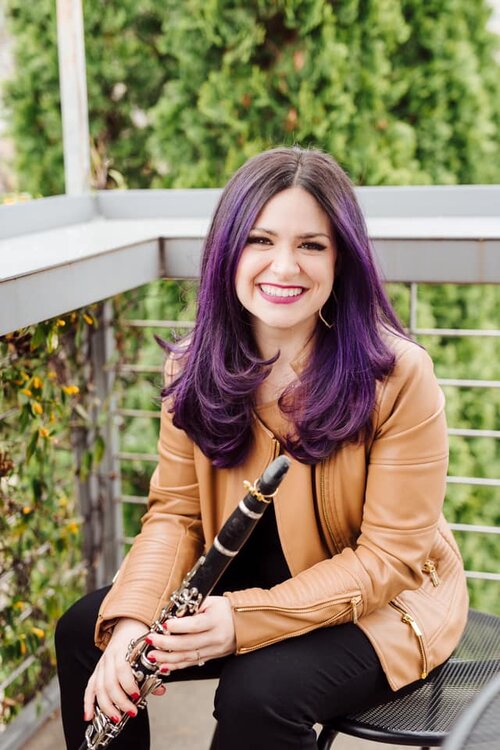 Brooklyn's most darling boss lady, Emily Pecoraro is a New York based multi-instrumentalist who performs in and around the Broadway, Jazz, and Classical communities. She holds her B.M in Music Education at Ithaca College, and was the first person to study M.M. Multiple Woodwind Performance at Boston Conservatory.

With Emily's dedication to Neotech straps and accessories, she approached us with an idea for a different kind of strap. Her suggestions and feedback played a vital role for the Neotech design team in creating an improved version of a strap to make doubling in an orchestra pit more comfortable.
When did you know you wanted to become a musician?
I knew as a little kid that I wanted to be a professional musician. I don't know what compelled me to want this, but I always wanted to play on Broadway. I remember thinking it was really cool, and I was playing alto sax and clarinet at that time, so it probably was suggested to me by someone as a career possibility. Anyhow, I thought it was so interesting.
I grew up playing clarinet and saxophone from middle school and added flute when I was in high school. And for much of my young musical life, I studied with a musician who was also a doubler. He really drilled into my head how to compartmentalize my approach to playing these different horns: "Fix your embouchure, your chin is too flat for this, you're playing the saxophone like a clarinet player… No, your voicing is too open for this, you're playing the clarinet like a saxophone player…" Things like that. It was a great way to make me practice thinking like a flute player when I'm holding a flute, like a clarinet player when I'm holding a clarinet, and so on. I've always been interested in playing many members of the woodwind family — It's such a great way to engage with different types of instrument voices and colors.
I went to Ithaca College for my undergrad, where I studied Music Education. That degree had a classical clarinet concentration but while I was there I continued my saxophone and Jazz studies as well. My Masters degree is from The Boston Conservatory, where I studied Multiple Woodwind Performance. That was really my opportunity to cut my teeth as a woodwind specialist, and I am so grateful for my time there. After I finished grad school, I went on the road for a few years with a few different touring productions of Broadway shows, before settling into the City full time in 2015. Once I got here, I began studying with Lawrence Feldman, who is truly my biggest pedagogical influence. He completely got me whipped into shape as a saxophone player and a professional doubler, and I am so grateful to him for everything.
You've been instrumental in giving us feedback on the creation of our products for a while now! How did you discover Neotech Straps?

The Neotech Soft Sax Strap® was my first ever saxophone strap - I still have it kicking somewhere around here, I'm sure! It's well-loved, but would still work great! I like the give of the neoprene material, but I tighten it and pull against myself to reduce the bounce of the strap, which makes it super comfortable for me. The Neotech Tux Strap™ is my favorite nowadays. It has a bit of bounce to it, but it's the sleekest strap. As a petit person (I'm 5'!), I don't want anything too bulky clunking around my neck while I'm playing. The Tux Strap is it!
Neotech has been great in working together. I played a huge role in designing Neotech's Doubler Strap™ alongside Neotech's production team! I usually have a different neck strap on if I'm playing alto and tenor on a gig, for example. I had the idea of using one neck piece, multiple hook attachments. Boom! This was my way to work around having too many neck-straps piled on when playing different horns.
That's awesome! What have some of your favourite accomplishments in your career so far?

I always joke that my proudest accomplishment is toilet training my two 6-year-old cats, which, now that I say it, I guess it isn't a joke. That's it. That's my proudest accomplishment.
As a performer, though, I can list a few gigs I've loved getting to be a part of: For the last two seasons that it ran, I was a chair holder in the orchestra for the Radio City Christmas Spectacular featuring the Radio City Rockettes, which is just a blast of a gig. I work regularly with the zany and wonderful Ed Palermo Big Band, and am the lead alto player for the The Temptations and The Four Tops "New York" horn section, and I was previously an alto and tenor saxophonist for The Temptations Revue which featured the late Tempts alum Dennis Edwards.
As an administrator, I am the Artistic Director of The Variousound Sessions, which has held monthly residencies at both Pine Box Rock Shop in Bushwick, Brooklyn and Pete's Candy Store in Williamsburg, Brooklyn. From its inception in 2018 until the end of this previous 2021 season, I was program director for the Women In Jazz Organization's collegiate mentorship program, WIJO Mentors, which was a dream of a program to get to be a part of and foundational in.
Have you lived in New York for long?
I've lived here officially since 2015. I'm originally from Long Island (my family are all New Yorkers), but I moved around a bit as a kid. I did elementary school in Surrey, England, then middle and high school just outside of New Haven, Connecticut. After college and grad school, the music industry brought me back to New York. When I finished grad school, I went on the road for a few years with a few different touring productions of Broadway shows, before settling into the City full time.
Recently, my husband and I had the incredible fortune to be able to buy a place in Queens. I'm happy to say that I'm officially a Queens Queen! We'd been working towards this for a while, and then everyone left the City and rates went historically low. It was a perfect storm of luck. I basically live at Home Depot now, updating the place! Lots of DIY projects are going on over here.


You mentioned that you're a teacher. How long have you been teaching for?

I started teaching privately in high school, and have been teaching ever since. I initially went to college thinking I would be a band director, but found my passions led me to balance teaching with my performing life, though I still do a bit of classroom teaching. I taught at the Ithaca College Summer Music Academy for many seasons, I have led masterclasses and workshops in high schools, colleges, and universities across the country. I also co-teach the beginner band program at the Lycée Francais du New York here in the City.
One of the best things about being a teacher is I actively think about learning and thinking all the time. I'm currently running a private studio of 23 students - that's what's been keeping me going for the last year.
Ralph the cat is always a staple in my lessons - the kids will be like, "'Ms. Pecoraro, can we see Ralph?!" And he's usually not too far away and is happy to be held up in front of a computer camera. He's profoundly needy. He's actually sitting here with me right now, I'm holding his feet as we speak.

Ralph looks and sounds like a great sidekick!
On top of ALL of that, you are also a fantastic florist! How did you get into the floral industry?

I needed a side hustle in college, so I went to the North side/Italian end of Boston to find a waitressing gig in a place where I could practice speaking Italian. I walked past this florist near my house with 'help wanted' signs in the windows, and that was that. I built up my portfolio from there. The company I work with often do celebrity accounts, so I've arranged flowers for some very big names. I have a huge wealth of knowledge about houseplants, so I get texts all the time from people asking for plant advice!



I've learned over the years that the arts and floral community are intertwined. Most florists I know are artists, musicians, glass blowers, and graphic designers. Floral arranging follows the same principles as being a musician. It's all formulas. If you can understand how scales work, you can understand a formula for certain arrangements.

What is your ultimate goal?

My goal is ultimately to keep having fun as I keep climbing. I have specific things I want to achieve, but those might change. Life changes. You set goals and dreams all the time, but there's never an end. When you achieve them or find a different one, you just keep going. As things go, I'll continue to change my plans. This quote sums it up perfectly: "We Plan, God Laughs."
As a musician, the line between what you love and what you do is so blurry. You are your own boss. You have to be simultaneously methodical and organised, but also improvisatory. You hope you're a good boss, and a good employee. I love that I get to organise my life in a way where I can be diversified, and do so many different things that make me happy. I work as an administrator, a performer, a teacher, and most of the people I surround myself with are musicians. It's often hard to switch off when you like what you do!
Check out Emily's work here:
Subscribe to us at @opblog21 for more exclusive interviews, features and content!