The New British Sound: Hyde Park Brass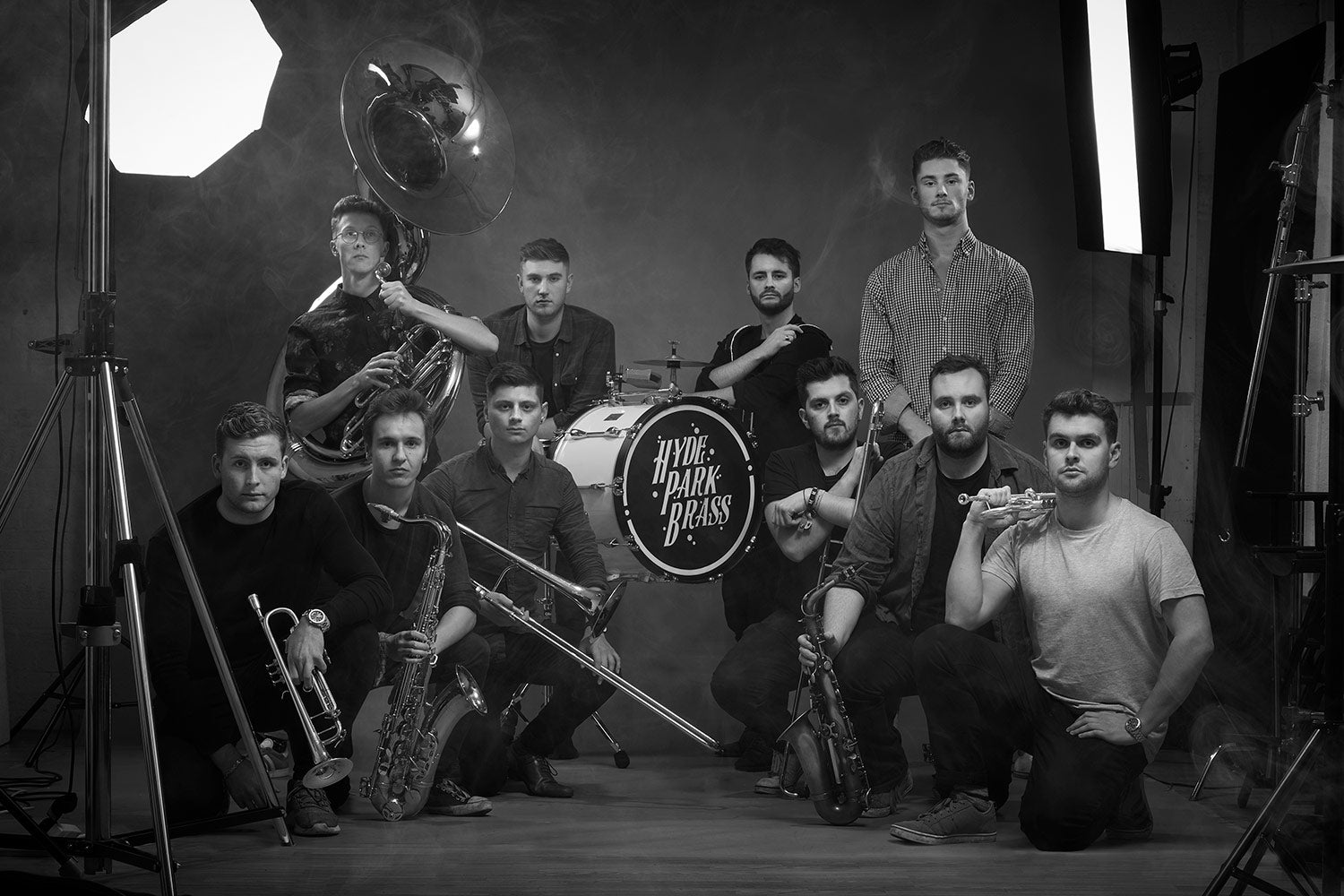 Author: Michaela Allen
Since culminating as a band for a University of Leeds concert in 2015, Hyde Park Brass has become a quintessential part of Britain's brass band culture. Hyde Park Brass has played live to millions on BBC Sports Personality, provided the soundtrack to an award winning advert on British television and toured with the infamous B-52's on their 'European Farewell Tour.'
We interviewed band members Charlie (trombone), Thomas (trumpet), Chris (drums), and James (sousaphone) about their brand new album Fully Charged and their journey so far.
We were super excited to create custom Neotech straps and accessories for your upcoming album release! What do you guys think of them?
Charlie: I was so surprised to see how good our print looks on your straps. I've always noticed Neotech, when I think about it. When they came, my first reaction was just that I was very excited that we got on board with you guys as ambassadors. And quite simply, the straps and accessories just look great.
James: I was quite pleased with my Sousaphone Shoulder Pad that goes on to reduce the weight and the pain that goes on your shoulder. I used to just wrap scarves around my sousaphone to make that better, so it's good to have something that looks really sleek, that isn't a scarf.
Thomas: Neotech products are all universally comfortable, just from hearing reviews from the lads who wear the sax strap. I've got your Brass Wrap™ on my trumpet. Your products are all really comfortable, and it's nice to have matching accessories throughout all the instruments.
Chris: I guess, being the drummer, I've not had much of a look in on the practicality of these. But I can definitely back up the fact that I think they look pretty awesome. I have paid attention on the gigs we've had recently to see what it looks like on the instruments, and it looks pretty swag.
We're so glad to hear that!
Can you tell us about Hyde Park Brass's origin story?
Charlie: Well it started as a one-off show for halls in the University of Leeds. It was put together by Rich and Harry; they frantically got some charts together, got the boys together, and it's sort of snowballed from there. What's really kept us together is friendship and, dare I say, the word "beer." That's like our oxygen as a band. And what's really odd is that, as we've grown and played around, people have started to notice our growth. I think I lost the point of the question there...
Chris: It's been a very organic process for us. It started as a uni thing with some people from Leeds Conservatoire and Leeds University, so we all met as just mates. Initially, we were just playing in the Student's Union for free beer, then started getting gigs in clubs and local venues in Leeds, like Hifi. We were doing a lot busking at the time, which was good for getting our name out there. Everywhere we played, quite luckily, people really liked us and took to us, and that helped us get more gigs. That was how it snowballed. We got to start going across the country that way.
Charlie: Yeah, that was a much better answer.
You mention beer, didn't Northern Monk brewery feature you guys on your very own exclusive line of beer?
Charlie: Yes. We played at the director of Northern Monk brewery's wedding. They wanted to team up with local artists, so they teamed up with us and named it after one of our songs. It was tasty. I've got some left in my garage, but I think they're past their sell-by date.
Chris: I've got one left that I said to myself I'd never open. Then an empty one.
James: I've got an open can left. I just drank it. No point not drinking it.
You'll have to let me know when a wine company decides to sponsor you for a classy jazz album!
You've toured internationally too. Can you tell us a little bit about that?
James: We've done Ireland - we've done all over Europe, really. The next step is the world, isn't it?
Chris: The first official one we did was the Cork Jazz Festival, and then we were able to do a private function over in Florence, so that was a great opportunity. The next big thing after that that got us out to Europe was doing the B-52's European Farewell Tour in summer 2019, after that, we took it upon ourselves to do a glorified European street tour, which took us all over. We did Italy, France, Spain, Germany, Switzerland...
James: Don't forget, we headlined MBrass Festival in Maastricht in the Netherlands!
That sounds like a busy summer!
You did another street tour to bring live music to neighborhoods across England during the summer of 2020, when COVID restrictions had been in place for a long time. Can you tell us more about that?
Thomas: It was actually a fundraiser. We'd fundraised enough to do over 100 gigs in a month and a half, maybe even longer. We went all the way up in Scotland down to Cornwall. It was quite a big logistical job to figure out where we were gonna go, and when we would do each gig; but it was great fun. Everyone loved it. We managed to get picked up by local news and were on BBC Breakfast. There was an extensive camping and staying in hostels, it was a really good experience. We made good of a bad situation.
Wow, you basically did the John Groats to Lands End journey carrying giant woodwind and brass instruments.
What inspired you to write your new album, that you're releasing this year?
Charlie: Wow, nobody in the band knows about this, so this is an exclusive for you! When we get faced with something, we don't let any situation stop us from playing, being creative, and getting together. the street tour, the album became a thing. We started off by doing lockdown videos, and that was really fun. Then, we went one step further, and we wondered if we could just do an album remotely, all from our rooms. We'd do listening parties, picking out songs that we like. Someone would write something, send it to someone else, and then send it to Tom to get some synths down. It's been a very different process to how we normally get tracks together, but, because of that, we've not had any distractions.
For years we've been trying to find our sound, the We wanted the electronics to be as organic as the brass, and with this we've really explored it. We really think we've landed a new sound in the brass world. Whether it's a good new sound or not, we'll see! It's been a journey - 3 years in the making.
It sounds like a collaborative process. How do you guys write together and has it changed since your earlier tracks, including your EP 'Powerhouse'?
Charlie: Powerhouse> was quite early on in our electronic process - we worked with Monkey Harper on that one. The really interesting thing is that, off the record, there's more creativity in our new album than back when we were writing Powerhouse. We've learned new skills as we've gone along and have all been more creatively involved. Becoming recording artists has changed the usual process of how horn players and brass bands usually think - which is usually just all in the dots and in the music. We had to flip that on its head, on the whole process of how it sounds, layering up this, some of the tracks in the album there's a 100 horns playing at once, but out front you'd never know that's how it sounds. Being able to listen back to a track over and over again, like having James thinking 'actually this is what I hear instead, let's put this bass line there...' It's enabled us to be more creative, instead of rehearsing and saying 'go again' - I nearly did an impression of you then, James.
Chris: What I'm really excited about is discovering more about the album as we perform it together. We've been sitting on this album for a while and there're bits of work to do here and there, but just playing it live means that something else will come out of that, because it's different when 10 or 11 guys get together to play it.
Your friendship really shines through on-stage! Do you guys have to rehearse much to get that kind of solid performance?
Charlie: There was one time where we took it more seriously. We'd sold out Belgrave Music Hall, which neither us or the venue expected, so we booked out a few dance studios and practiced moves in the mirror. You have to work to make it look relaxed. Because we're friends, it is easier to let your hair down and get going.
James: Controlled chaos is probably what we're trying to go for.
Chris: We all really enjoy playing the music. When it gets to end of the day, obviously being a group of friends helps.
James: I feel like we did work on our presence for certain shows, but we're at the point now where we don't really need to work for it, because we've done the hard work already.
Charlie: James has an entire dance style of his own. If you're at a gig watch James dance.
Chris: Watch the feet, especially.
I've seen it live before! How do you do manage to dance like that carrying a sousaphone?!
Thomas: He has strings above him and a bloke at the top.
I wouldn't be surprised if he did!
What are your goals and your next steps?
Charlie: We want to create a new sound for brass bands. That's the whole reason for Earl Spaceman wearing a sousaphone on the Fully Charged album cover, we're pioneering new ideas for music.
James: We'd all love to branch out and perform in America, absolutely. It's all about working to get into those situations and those opportunities.
Check out Hyde Park Brass at the links below:
Want to join Neotech in getting hyped for Hyde Park Brass's album launch? Fully Charged? Subscribe to us at @opblog21 for exclusive features, reviews, and interviews with our ambassadors, or follow us at @neotechstraps on Instagram!